Status Global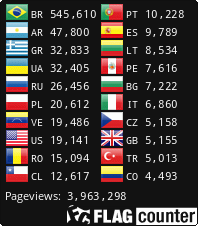 "
News
---
Information and News
March 01, 2019
Description of the server L2UFC
:
Server Platform: L2OFF - Oficial Files PTS
Rates: Exp 50x, Sp 50x, Adena 30x, Drops 10x, Spoil 10x, quests 5x.
Interlude /Pvp – farmer.
Not Custom.
Retail status mode Oficial.
Server Timezone: Time (-3 GMT)
Pvp-Farm System S Grade
Advanced Cancel: buffs returns after 10 secs.
Alliance Limit: 1Clan
Clan penalty 6 hours
Auto learning skills
Offline shop.
Infinity Scape
Greater Healing Potion, Mana Potion restore 1000mp with delay 10secs- at Shops of server for Adena.
Teleportation for all Towns. Gk Global
1st and 2nd 3nd Class by Adena. At each Job the player will earn adena as an award to buy their equipment corresponding to Level.
All charescteres is born level 1 in Dark Elf Village.
When initiating the chaR there will be a magic buffs support.
There will be in each character a KIT of Items in your BAG :
In Giran is concentrated all the NPCs
Fortress Active – Auto Tvt Top Mode.
Nobles: quest retail.
Sub Class: By adena
°°°°°°°°°°°°°°°°°°°°°°°°°°°°°°°°°°°°°°°°°°°°°°°°°°°°°°°°°°°°°°°°°°°°
---
See more
Welcome to the L2UFC Interlude
Welcome to the Lineage2 Server UFC Interlude 50x Pvp: our intention is to have a server less suffered in the aspect of not having to crafter of items, but only to gather items of d...
Business and money for You
Chegou a oportunidade que todos esperavam, como sabemos muitos servidores L2Java abre e fecham rapidamente. Por isso o L2UFC pensou em algo jamais visto, pagar para você joga...
View all